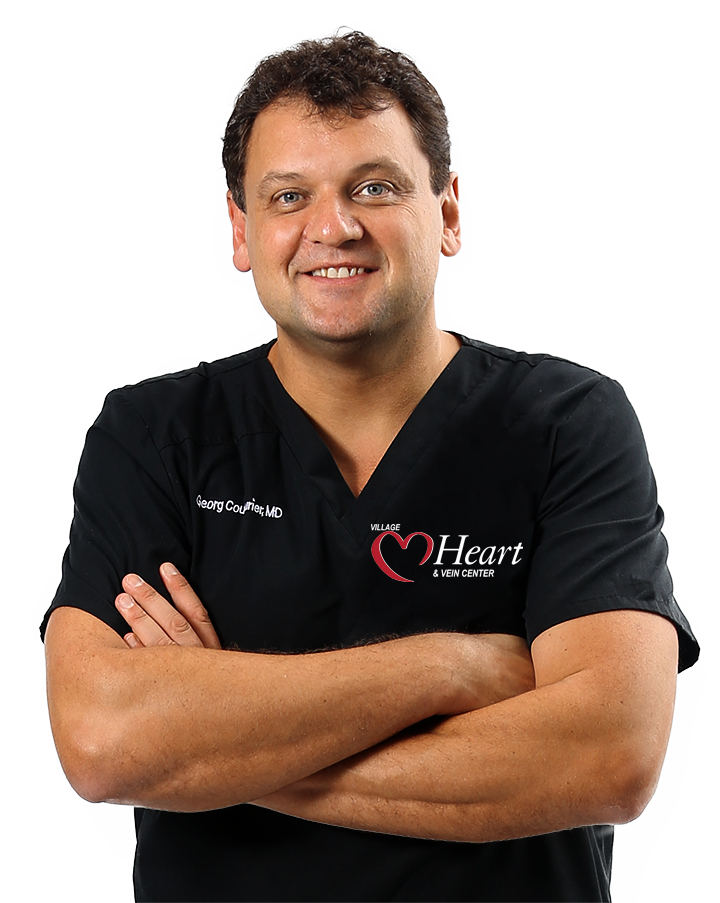 Dr. Georg Couturier opened Village Heart and Vein in 2011. He is board-certified by the American Board of Cardiology, the American Society of Echocardiography, the American Society of Nuclear Cardiology, the American Registry Diagnostic Medical Sonographers, the Society for Cardiac Computed Tomography, and the NASPE/Heart Rhythm Society. He specializes in general cardiology, preventive cardiology and pacemaker and defibrillator implants.
However, he quickly acknowledges that owning a successful practice and being showered with awards are a result of surrounding himself with equally talented doctors.
Assembling A Team With Big Hearts
Dr. Couturier has recruited additional doctors to his practice who share his belief in going above and beyond standard medical care to support and educate their patients. Those physicians include Dr. Vatsal Inamdar, Dr. Siroj Tampira, Dr. Charles Jones, and Dr. VisaliKodali.  Together, they bring a full complement of services to address the needs of patients—from cardiology and heart failure management to vascular disease and electrophysiology.
"We cover the whole spectrum of cardiology and refer to each other if we need a second opinion," Dr. Couturier says. "Each patient's medical information stays in a file where we can share it. That's a big advantage because we know what is going on with each patient."
Dr. Tampira is board-certified in interventional cardiology, internal medicine, and cardiovascular disease. He completed a fellowship at Tulane University.
Dr. Inamdar completed both his residency and cardiology fellowship at Winthrop University Hospital in Long Island. Afterward, he completed his electrophysiology fellowship at Mayo Clinic in Arizona and received extensive training in complex arrhythmia management and device implantation. He is certified in adult cardiology, cardiac electrophysiology, echocardiography, nuclear cardiology, and internal medicine.
Dr. Jones attended medical school and completed a residency in internal medicine at East Carolina University. He then completed a fellowship in general cardiology at Marshall University and went on to complete two years of advanced training in Electrophysiology at the University of Chicago.
Dr. Kodali completed a fellowship in cardiology at the University of South Florida and a fellowship in CT and MRI imaging at Saint Francis Hospital She is certified in internal medicine and cardiovascular disease.
We Take Comprehensive Care To Heart
It's no secret that residents of The Villages participate in softball, pickleball, golf, bowling, dancing, and many other activities. Their main concern is remaining active and healthy.
The talented, experienced, and caring team at Village Heart and Vein allows them to do just that. That's because when it comes to taking care of your heart, this comprehensive practice never misses a beat.