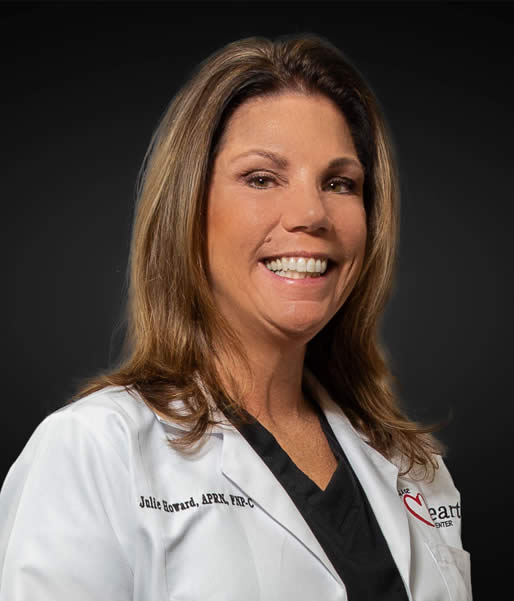 Julie Howard,  APRN, has been a Family Nurse Practitioner since 2012, graduating from University of Central Florida with her Master of Science in Nursing Practice, specializing in Congestive Heart Failure under the tutelage of Dr. Georg Couturier and treats all levels of cardiovascular patients for Village's Heart and Vein Centers. As a board-certified Family Nurse Practitioner, she has been trained to treat the whole family, from infancy to the elderly and worked as a Pediatric Nurse Practitioner and Family Nurse Practitioner before returning to her passion for Cardiovascular care. Julie began her nursing career over 15 years ago in UF Leesburg / Villages Hospital system ER and Heart Cath Units during which time she initiated the Compassionate Companion Committee, "No One Dies Alone" program and was a member of the Hospital Emergency Response Team (HERT), all of which gave her the inspiration to ultimately follow the Cardiovascular path as a Nurse Practitioner.

Julie is an active volunteer member of The Lake County Emergency Management Group as well as the Remote Area Medical (RAM) Program. Julie and her husband are both Florida natives and enjoy boating, hiking and traveling.
Board-Certified Family Nurse Practitioner
Master's of Science in Nursing, University of Central Florida
Our physicians and ARNPs enjoy practice privileges at all of the major medical centers and hospitals in our Central Florida area. For specific details as they relate to your physician, all you have to do is ask.